Inhalt
Project region
The study region extends approximately 250 km x 180 km and is located in South-western Poland and Eastern Saxony. The orography is strongly influenced by plains in the northern part and various mid-range mountain areas (Ore Mountains, Zittau Mountains, Jizera Mountains, the Giant Mountains and Hrubý Jeseník) in the southern part of the project area. The highest peak reaches 1.603 m (Snežka).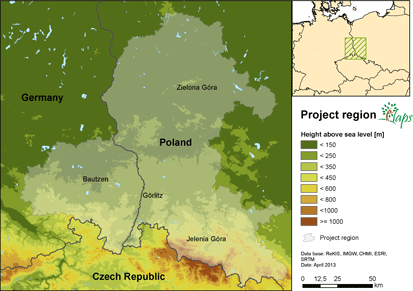 The project region is macroclimatic classified as a transition climate zone between maritime Western European and continental Eastern European climates within the west wind zone. It is characterised by a constant alternation of maritime and continental weather sections. Related to that, the supply of the associated air masses typically causes a variety of meteorological phenomena in Central Europe. However, the maritime influence is dominant.
The highlands are rich in forests (above 650 m a.s.l. spruce is dominant). Above the timber line (at 1.200 m a.s.l.), high mountain pastures are used. The land use in the project area is as follows: 42 % forestry, 8 % grassland, 42 % agriculture, 6 % urban areas and 2 % water.
In the lowlands of the project area, the total annual precipitation is between 600 and 700 mm per year, and over 1.000 mm in mountainous areas. The average temperature of the summer half-year is between 14.7 °C in the lowlands and 8.9 °C on the ridges. In the winter half-year, temperatures of 3.3 to -1.7 °C are reached.


back to top